Update – Jin has been found! Thanks for your help.
1090 AM ~ Smithfield, NC
Selma Police K9 Missing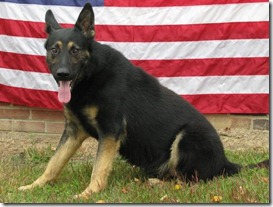 Selma Police are searching for their police K-9 who went missing over-the-weekend. Jin, the departments K-9, disappeared from her handler's home on Rody Street in the Pine Level city limits late-Saturday.  Jin was later spotted in the same neighborhood but failed to return home.
Police believe Jin escaped from her pen and was not stolen.
Selma Police Chief Charles Bowen asks citizens in the area to be on the lookout for Jin and if she is spotted to contact Selma Police at 919-965-8189 or dial 911.  Chief Bowen said Jin is a black and tan German Shepherd weighing about 60 pounds.
Although Jin is trained as a police K-9 she is not considered to be dangerous to the public.
Chief Bowen said the department is offering a $500 reward for Jin's safe return.